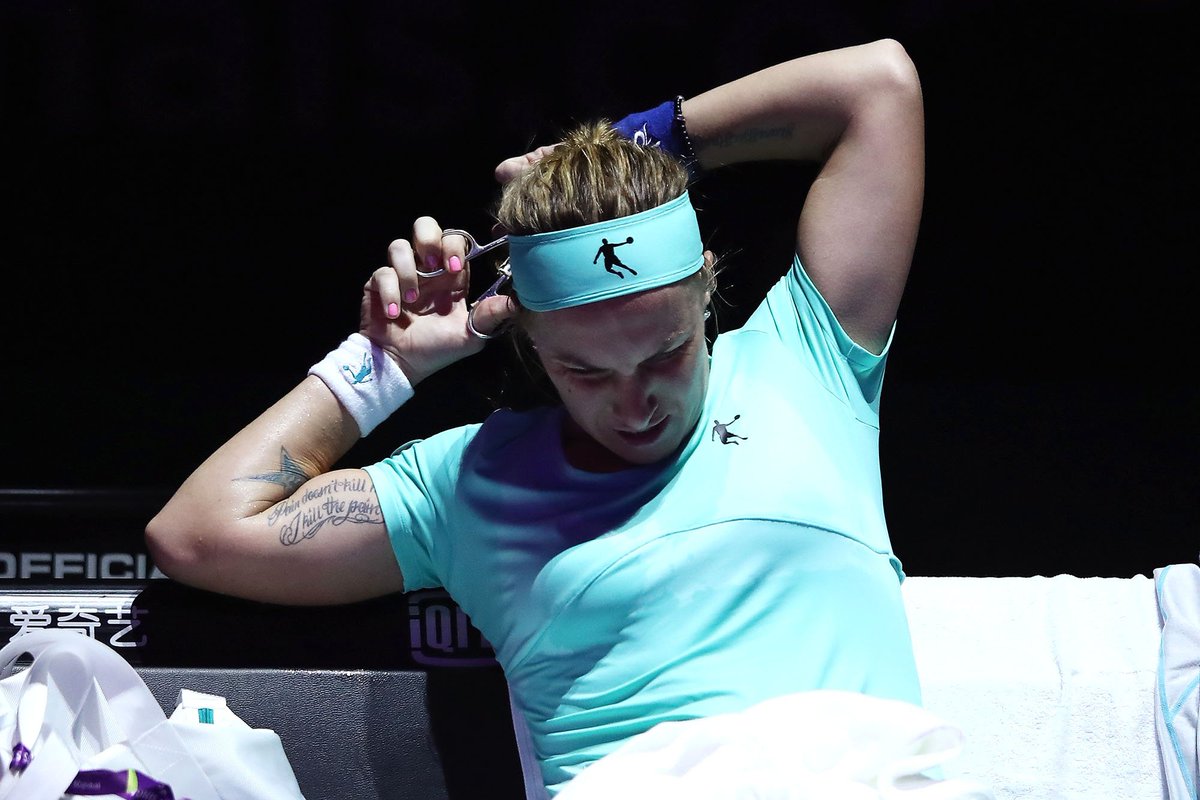 Singapore-With WTA Finals moving to Singapore, WTA has altered it's final tournament's format somewhat. Before, the ladies would be done in six days, playing the group stage in 4, and now the competition takes place over an 8-day period. That led to end of championship race a day before the start of the final tournament.
This year, the fight for the final place lasted untl the last possible day. By winning the Kremlin Cup in Moscow, Kuznetsova overtook Johanna Konta and earned a spot in Singapore. However, while all the other participants have already spend a few days there, the Russian player only flew in on Sunday morning. Because of that, she had much less time to adjust to the court, and the changing of time-zones combined with a late and long flight must have had an effect on her physical conditions. At the press conference, Kuznetsova noted that the current calendar places her at a disandvantage.
Agnieszka Radawanska was one of the first to arrive to Singapore after her victory in Beijing and a pair of matches in Tianjin. After losing to Kuznetsova in Wuhan, she hasn't lost a match. She entered the match as a favorite, due to lengthier preparation and physical conditioning.
For Kuznetsova, it was her first WTA Finals since 2009, and 6th overall.
In the first few games, the Russian player had difficulty in catching the rhythm. Radawanska jumped to 4:1 lead. Svetlana needed a talk with her coach, after which she somewhat calmed down. Her game improved, she began pressing her opponent. Also, she wsa near-perfect in break-point realization, managing to make a curling cross with a backhand each time. As a result, she won 6 games out of 7 and took the first set.
Second proved more difficult. Serving didn't help, Radawanska made fewer mistakes. The Polish player was more successful by the net, and assuredly took the second set, 6:1
Kuznetsova took a long pause before the decisive set, but it didn't help as she lost the serve immediately. "At one point I was ready to lie down on the court and be carried off," admitted Kuznetsova. Also, her hair seemed to get in the way. But she found a radical way to correct that. During the pause after the third game, she asked for scissors-and just chopped off a piece of her ponytail.

In the next game, she made a break. Still, Radawanska looked better. She was constantly ahead. It seemed that Kuznetsova (who, we remind you, played 15 matches in the 29 days leading to the tournament) was simply drained. But she has been known to surprise, and did it agian.
Svetlana earned three breaks in the decisive set. Last one was a match-point, the Polish player actually had a match-ball, but made an error. After 2 and a half hours of superb defense, it was Radawanska who ran out of energy.
After the match, she was dissapointed. She said that she didn't even notice that Kuznetsova cut off some of her hair and joked: "It's good that she didn't cut off something else." However, te tournament is not over for Radawanska, who began her last year's WTA Finals with a loss as well, but bounced back to make the play-off.
After the match, Kuznetsova was asked about the hair cut. "The hair was getting into my eyes after hitting from the right.. Hair grows back, the match was more important," commented the Russian player with a smile.
On Tuesday, Svetlana will get a much-needed day of rest, and on Wednesday will meet the winner of Muguruza-Pliskova match.