Levan «Tiny Tank» Temuryan
21.10.2016 23:02 David_Kocharyan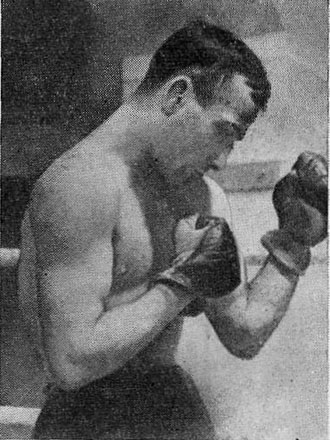 Levan (Leon, Lev) Grigoryevich Temuryan, born in Baku, 1908.

Worked as a fitter. Began boxing at the age of 20 under coach Feyerman.

In 1932 enrolled in the Higher School of Coaching (VSHT), graduated in 1934. After graduating, worked as coach-instructor of the boxing division at the State Institute of Physical Culture, and competed in tournaments.

War left behind some hard memories. For a long time, the frontline fate of one of the greatest masters of the ring, Levan Temuryan, was unknown. Everyone knew that he was one of the first to volunteer for battlefield duty, that he was a political officer of a sharpshooter company. His relatives received the news: missing in action. Years went by, Levan's fate was still unknown. Finally, in 1972, during the XXth Olympiad in Munich, some Soviet tourists noticed a small plaque in German while visiting Dachau: it informed that Soviet boxing champion L. Temuryan fought in the underground organization and was killed by the Gestapo. Dozens of inquiries, attempts to figure out the circumstances of Temuryan's death so far failed to yield results. The main thing is known: he died unvanquished, he died in battle, remaining a fighter to the last breath. His friends recall that for his relentless tenacity, his break-neck pace of fighting in the ring, he was nicknamed «The Tiny Tank». He remained that way until the end-Levan Temuryan, an undefeated champion.

USSR Champion-1935, 1936, 1937, 1938 in the light flyweight category.
Participated in the IIIrd International Workers Olympiad in Antwerp (1937).
In 1937, for outstanding athletic achievements, was awarded "Order of the Badge of Honor".
---
Other artickles by this author ():
---
Комментарии для сайта Cackle
---
News Boxing